Upcycling

vs. Recycling: What's the Difference?

You've heard of recycling, and you have a good idea of what it means. People have been turning old materials into new materials to use them again for decades. But have you heard of the newer term "upcycling"? Many people are either confused by the term upcycling or haven't heard of it before.

Read further to explore the difference between the two and how you can get involved in each of them for the betterment of your community.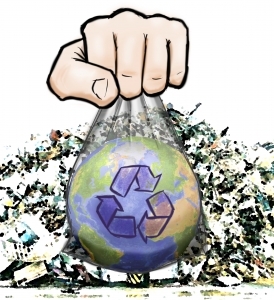 When you recycle, you have a hand in saving the environment

Recycling

You may have been recycling for many years. Recycling involves taking waste products -- such as used soda cans, plastic jugs, cardboard, or other materials -- and turning the waste from those items into other items that can still be used. An example of this would be cardboard that is recycled into napkins or writing paper that has a high percentage of post-consumer (or recycled) content.

Typically, recycling is not something most people do themselves when it comes to materials such as cans or plastic jugs. Instead, most people leave their recyclables out for pick-up at the curbside of their homes (if they have a city-wide recycling program built into their municipal waste services), or they gather up all their recyclable materials and haul them to the recycling plant or collection station in their town or city.



Upcycling takes an object and transforms it for use in an innovative and new way

Upcycling

So, you have a good handle on recycling, and you partake in the process on a regular basis. What, then, is upcycling, and how is it related to recycling?

Simply put, upcycling is a step up from recycling. While used materials are used for new product, just as they are in recycling, in upcycling, the goal is to make sure the new product is not only fashioned from the waste content of the original product, but also to ensure the secondary product has more usage value than the first product did in its original state.

The ultimate goal is to convert waste products into something that increases in environmental value. An example of this would be using an old teapot as a planter or, perhaps, using an old industrial cable spindle as a coffee table with storage for books. You could do this by turning the wooden spindle so it sits on its flat end and then painting and decorating it. Once completed, you can use the empty side spaces to store books or other materials. This is an example of taking an original item and increasing its value the second time around.

Examples of How You Can Participate

For recycling, if you haven't already been doing it, you should collect all recyclable items on a weekly basis and take them to your local recycling center. Call ahead of time to find out what items you can bring and any other restrictions they might have.

If you're lucky enough to have a recycling program in your city, contact the sanitation department and schedule pick-up for your recyclables. They likely have a special bin they will provide to you so you can place everything out at the curb for pick-up on a scheduled basis.

For upcycling, the beauty is being able to use almost anything recyclable and turning it into jewelry, household trinkets, handbags, or anything your creative mind can come up with. Again, remember that upcycling involves using the material you're given in a complete way and in a means that does not destroy the original article. Instead, you transform the original product into something that has more value -- such as fashioning fruit drink pouches into a savvy tote bag or making book covers out of used candy wrappers. Many people put old jeans to use by transforming them into tote bags.

The ways you can upcycle are endless. In fact, the only thing that limits you is your imagination.

Regardless of whether you decide to participate in one of these practices or both, each is an excellent way to contribute to a greener, healthier living environment -- not just for you, but for the world as well. To make a measurable impact, commit to taking part in upcycling and recycling on a regular basis.

Contributor: Bev Sninchak is a veteran freelance writer with 16 years of experience producing content for both print and online publications. She writes about many subjects, from Reputation.com reviews to mastering social media strategies. She lives with her husband, kids, and a menagerie of pets in the beautiful Rocky Mountains of Colorado.